Recently, Vishay Intertechnology, Inc. announced the launch of a new thick film power resistor - IOA, which has passed AEC-Q200 certification and is packaged in a small SOT-227 package, and can be directly installed on a heat sink. Vishay MCB ISOA has high pulse processing capability, with a power dissipation of up to 120 W at a bottom shell temperature of 85 ° C. It can be equipped with NTC thermistors for internal temperature monitoring, and pre coated with phase change thermal interface materials (PC-TIM) to improve mounting efficiency.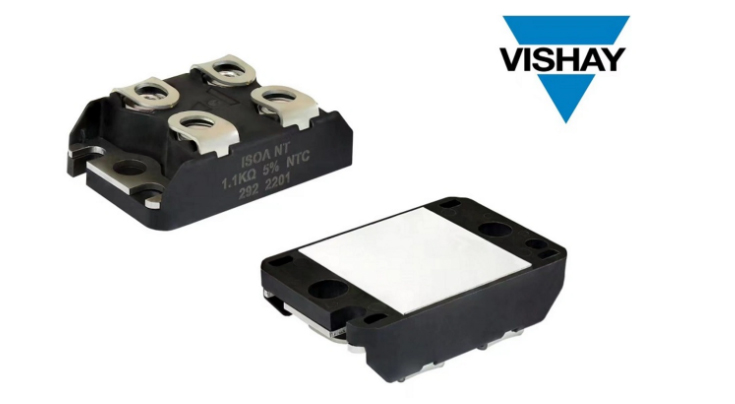 The recently released devices use aluminum substrates instead of metal sheets, which can be used as pre charging, discharging, active discharging, or buffering resistors to reduce costs in automotive, industrial, avionics, defense, and space (AMS) applications. ISOA can choose to integrate NTC thermistors that have passed AEC-Q200 certification and undergone temperature cycling testing within the resistor packaging, simplifying design and saving circuit board space. At the same time, PC-TIM can be selected to improve production, processing, and mounting efficiency.
Simplify the design of high power and high energy dissipation devices, reduce the required power devices, and thus reduce costs. The resistor has high energy pulse processing capability (up to 110 J/0.1 s) and has passed 3000 tests of 230 J/670 ms and 5000 tests of 350 J/1060 ms multi pulse cycles, making it suitable for various applications under high energy and repetitive surge pulses. In addition, the device also provides customer customized testing.
The ISOA resistance range is 0.47 Ω to 1 M Ω, with tolerances of ± 5% and ± 10%, and TCRs of ± 100 ppm/K, ± 150 ppm/K, and ± 300 ppm/K, respectively. The maximum working voltage of the resistor is 1500 V, the working temperature range is -55 ° C to+150 ° C, and the dielectric strength is 4000 Vrms. The device complies with RoHS standards and adopts a non inductive design, which can include two different resistors.