Infineon Technology Co., Ltd. recently launched a new AIROC ™ CYW43022 Ultra Low Power Dual Band Wi-Fi 5 and Bluetooth ® "Two in one product, further expanding its existing AIROC Wi-Fi and Bluetooth product portfolio.". The CYW43022 ultra-low power architecture has industry-leading performance, which can reduce power consumption during "deep sleep" by up to 65%, significantly extending the battery life of applications such as intelligent door locks, intelligent wearable devices, IP cameras, and thermostats.
Sivaram Trikutam, Vice President of Infineon's Wi-Fi Product Line, said: "Some consumer devices are extremely sensitive to power consumption. As a leader in Wi Fi and the Internet of Things technology, Infineon has developed an innovative method to maximize the battery life of these devices. By optimizing the power consumption of battery powered Internet of Things devices during hibernation, consumers can now obtain longer battery life compared to similar solutions. The combination of Wi Fi and Bluetooth in this new solution has the industry's advantages "Lower power consumption helps make more devices more intelligent, interconnected, and have more functionality to meet the needs of various application scenarios."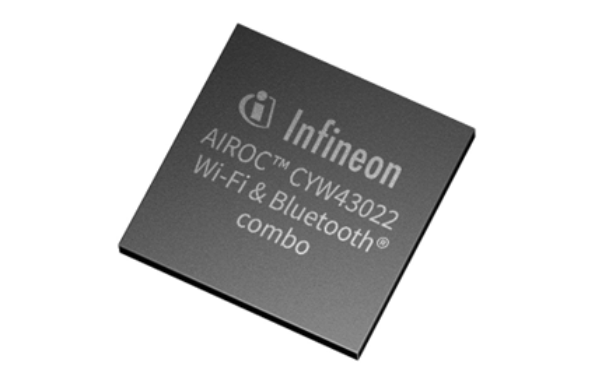 The Infineon AIROC CYW43022 ultra low power dual band Wi-Fi 5 and Bluetooth 5.3 dual in one product reduces the overall power consumption of system master processing through a built-in independent Wi-Fi network protocol processing engine and embedded Bluetooth protocol stack. To support smaller antennas or designs that need to cover longer distances, this 2-in-1 product includes a Class 1 Bluetooth power amplifier with a transmit power of+18 dBm. When it starts, it requires signed and authenticated Infineon firmware to run firmware image authentication, which can prevent hacker attacks and ensure safe use.
About AIROC Wireless Connectivity Products
Infineon's AIROC wireless products include Wi Fi chip, single-chip Bluetooth module, low-power Bluetooth chip, Wi Fi and Bluetooth two in one module, etc., with a shipment volume of more than 1 billion, which is an ideal choice for Internet of Things solutions. This product portfolio includes a wide range of ultra-low power products, all with outstanding performance and high reliability.
AIROC products adopt a common software framework compatible with Android, Linux, and RTOS platforms, and are pre integrated with Infineon's Modus Toolbox ™ Software and tools that enable developers to deliver high-quality differentiated products to the market on schedule and cost estimates. Users can log in to the Infineon developer community and directly contact online application support engineers.