Samsung Electronics announced today that the 16Gb DDR5 DRAM using 12 nanometer process technology has entered the mass production stage. This move to apply cutting-edge manufacturing processes has once again consolidated Samsung's leading position in cutting-edge DRAM technology.
Adopting differentiated process technology, Samsung's advanced 12 nanometer DDR5 DRAM in the industry has excellent performance and energy efficiency, "said Jooyoung Lee, Executive Vice President of Samsung Electronics Memory Products and Technology, The latest launch of DRAM reflects our determination to continue expanding into the DRAM market. This not only means that we provide high-performance and high-capacity products to meet the demand for large-scale data processing in the computing market, but also will help achieve higher productivity through commercialized next-generation solutions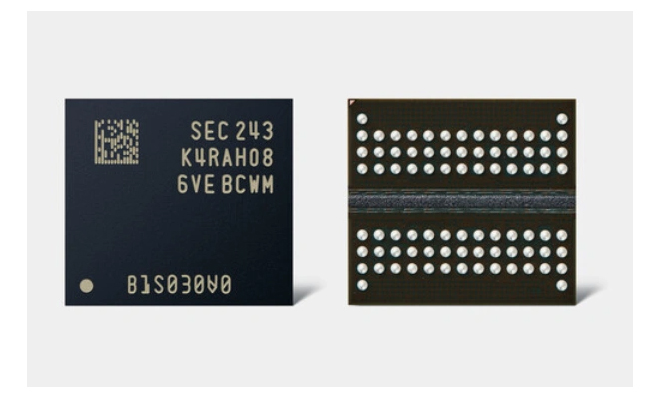 Compared to the previous generation of products, Samsung's latest 12 nanometer level DDR5 DRAM has reduced power consumption by 23% and increased wafer productivity by 20%. Its outstanding energy efficiency performance enables it to become an excellent solution for energy conservation and emission reduction in servers and data centers for global IT enterprises.
The development of Samsung 12 nanoscale process technology is based on a new type of high κ Materials, this new type of material helps improve battery capacitance. High capacitance causes significant potential differences in data signals, making it easier to accurately distinguish. At the same time, Samsung's achievements in reducing working voltage and noise also make this solution more suitable for the needs of customer companies.
The Samsung 12 nanometer DDR5 DRAM also has a maximum speed of 7.2Gbps, which is equivalent to processing approximately two 30GB ultra high definition movies per second. Samsung will continue to expand its product lineup of 12 nanometer DRAM to meet customer needs, supporting an increasing number of applications and supporting next-generation computing, including data centers and artificial intelligence.
Samsung completed a compatibility assessment of 16Gb DDR5 DRAM with AMD in December last year and will continue to collaborate with global IT companies to drive innovation in the next generation DRAM market.