Recently, WSTS released the latest data showing that global semiconductor sales in the first quarter of 2023 were $119.5 billion, a decrease of 8.7% month on month and 21.3% year on year. This is the largest quarterly and year-on-year decrease since the first quarter of 2019. In addition, Intel defeated Samsung to regain the top spot in the global semiconductor industry.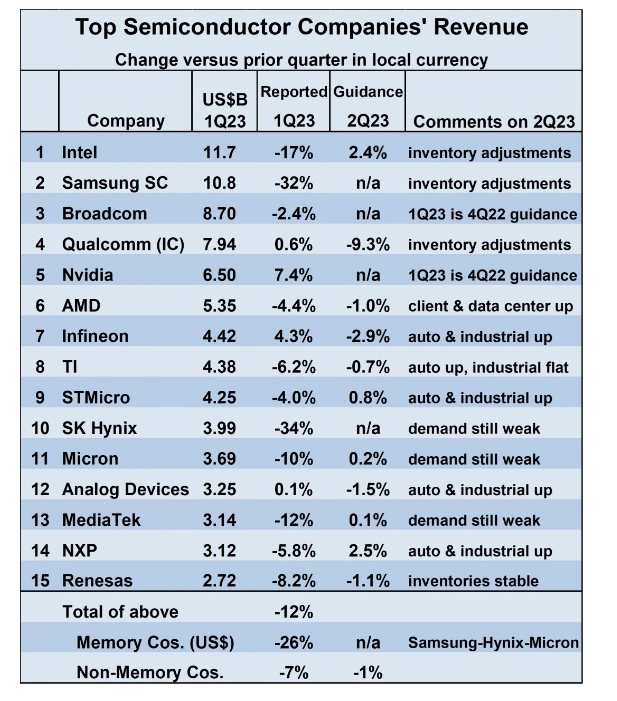 WSTS also released the revenue of the top 15 semiconductor companies in the world, with their weighted average revenue in the first quarter decreasing by 12% compared to the fourth quarter of 2022. The most affected among them is the storage chip company, with SK Hynix experiencing the largest decline of 34%, Samsung experiencing a decrease of 32%, Micron Technology experiencing a decrease of 10%, and the combined stock prices of the three companies falling by 26%. Among other companies, Intel and MediaTek experienced the largest decline, with declines of 17% and 12% respectively. Only Qualcomm, Nvidia, Infineon, and ADI achieved revenue growth in the first quarter of 2023, with Nvidia experiencing a significant increase of 7.4%. These 12 companies have decreased by a total of 7%.
From the ranking perspective, compared to the revenue ranking of the previous quarter, the overall ranking has undergone significant changes. Due to the heavy impact on Samsung's main storage chip business, Intel once again ranks first. SK Hynix fell from 5th place in the previous quarter to 10th place. In addition, Armor fell out of the top 15 with a 26% drop, while Reza Electronics, also from Japan, became the 15th.

For the revenue forecast for the second quarter of 2023, out of the 11 companies predicted by WSTS, 5 increased and 6 decreased. Among them, the largest increases were Enzhipu 2.5% and Intel 2.4%. Qualcomm's expected decline was the largest, at 9.3%. WSTS pointed out that the two major application areas of automobiles and industry are still the focus of attention, and the five companies that are expected to grow indicate that these industries have grown or at least remained flat compared to the previous quarter. The reason why these six companies may decline is that the demand for end products is weak and inventory adjustments are still ongoing.