Ruisa Electronics Co., Ltd., a leading global semiconductor solution supplier, and Meibei Sanmei Co., Ltd., a leading global stepper motor supplier, have announced the joint development of stepper motor and motor control solutions based on rotary transformers (angle sensors), and have been optimized for machinery, office automation (OA) equipment, and medical/nursing equipment. The stepper motor and motor control solution based on rotary transformer sensors jointly developed by Ruisa Electronics and Meibei Sanmei can meet the needs of higher precision control, miniaturization, and stronger resistance to environmental impacts of motors.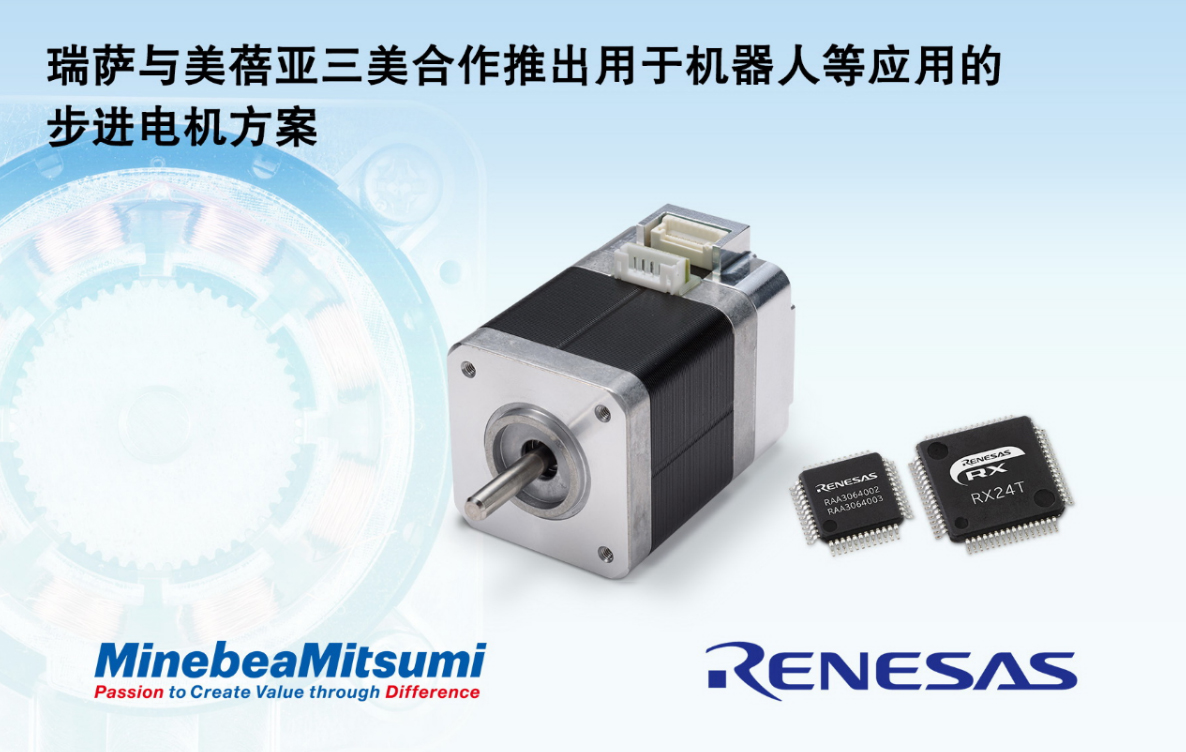 Meibei Sanmei has a good market performance in the field of automotive rotary transformer sensors and has developed a new type of rotary transformer for stepper motors for the first time, used in consumer and industrial equipment applications such as robots, office automation equipment, and medical/nursing equipment. As the leader in the global 32-bit microcontroller (MCU) market (Note 2), Ruisa has developed a new rotary digital converter (RDC) that supports the new stepper motor of the Meibei Sanmei, as well as driver software that can achieve RDC control through 32-bit RX MCU. Renesa also brings a stepper motor control kit based on a rotary transformer, which provides development tools, including a stepper motor with a rotary transformer and an evaluation board with RDC, allowing users to quickly start application development.

We are very pleased to collaborate with Ruisa to provide excellent control technology and develop first-class products. We hope that the progress in product differentiation of rotary transformer stepper motors can drive us to explore new markets, "said Suzuki Kemin, technical officer of Meibei Sanmei

Senior Vice President of Renesa Electronics Roger Wendelken, head of the General MCU Business Unit of the Internet of Things and Infrastructure Business Unit, said, "We are working with Meibei Sanmei to promote stepper motors to a wider range of applications. Our collaboration provides customers with solutions that include everything they need for the development of rotary transformer stepper motors, such as motors, RDCs, microcontrollers, software, and tools, to help users accelerate motor development speed and shorten product time to market

Characteristics of a New Scheme for Stepping Motors Based on Rotating Transformers

A stepper motor with a rotary transformer can perform high-precision motor control even in harsh environments such as high temperature, dust, or vibration. It also has higher-order characteristics, such as being able to drive heavy loads without losing step. Ruisa Electronics and Meibei Sanmei have developed new rotary transformer stepper motors and rotary transformer motor control solutions, greatly expanding the application range of stepper motors with ultra-high cost-effectiveness. For example, in the development of robots or Automated Guided Vehicles (AGVs), customers can even achieve high-precision movement in harsh environments such as warehouses or outdoors, while reducing costs by using smaller motors and further promoting the miniaturization of industrial equipment.

Key characteristics of the Meibei Sanmei rotary transformer stepper motor:

High torque characteristic: Due to no need for out of step control, the torque is 2-3 times that of existing products

Control characteristics: able to operate in broadband and ultra-low speeds

Low power consumption: current optimization through servo control that responds to actual loads

High precision: achieving high positional accuracy through a high resolution of 200000 P/R

Durable to harsh environments: simple structure, heat resistance, dust prevention, and vibration resistance

Miniaturization: The high torque of the motor makes it possible to apply miniaturized products

Key features of Reza Electronics RDC and RDC control driver software:

Detection method: VR voltage detection, VR current detection

RX MCU support: Reza provides RDC driver software for RX24T (and plans to support other MCUs)

Anti electromagnetic noise: Due to the inclusion of filters, position detection can be carried out with a signal-to-noise ratio of 1/2 (noise twice the signal)

Ruisa Electronics' Stepping Motor Control Kit Based on Rotating Transformer

Accompanying accessories: Meibei Sanmei 42mm square rotary transformer stepper motor, control board, CPU board (including RDC and RX24T)

Development support tool: Renesas Motor Workbench (including real-time waveform display function)

Including software: RDC control driver software, stepper motor control software

The copyright of this article belongs to the original author. The reprint of the article is only for the purpose of disseminating more information. If the author's information is marked incorrectly, please contact us immediately to modify or delete it. Thank you for your attention!