According to the official WeChat account of Renesa Electronics, semiconductor solution supplier Renesa Electronics has announced the launch of its first microcontroller (MCU) based on the 22nm process. Ruisa has now provided new device samples to some users and is expected to be fully launched in the fourth quarter of 2023.
By adopting advanced process technology, Reza can provide users with excellent performance and effectively reduce power consumption by reducing core voltage. Advanced process technology also provides richer integration levels (such as RF), enabling the same functionality on smaller bare chip areas, thereby achieving higher integration of peripherals and storage.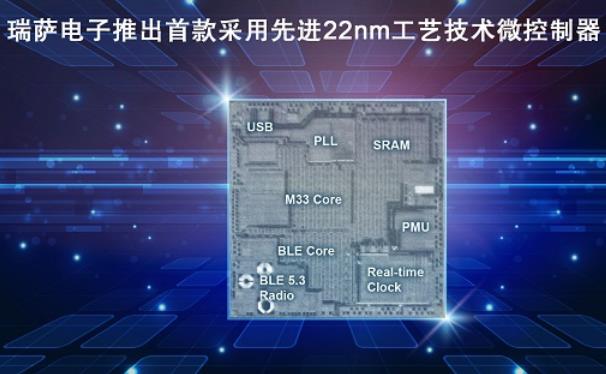 This time, the first MCU produced using a new 22nm process expands the popular 32-bit ARM based on Reza ® Cortex ®- The RA product family with M kernel. This new wireless MCU supports low-power Bluetooth ® 5.3 (BLE) and integrated with Software Defined Radio (SDR). It aims to build long lifecycle products and provides users with solutions suitable for future applications. Whether during the development process or after deployment, terminal products can be upgraded through new application software or new Bluetooth features to ensure compliance with the latest specification versions. Terminal product manufacturers can fully utilize the previously released full feature set BLE specification. For devices designed for direction finding applications based on Bluetooth 5.1 Angle of Arrival (AoA)/Departure (AoD) functions, or products that add low-power stereo audio transmission through Bluetooth 5.2 synchronization channels, developers now only need one chip to support all of these functions.
Roger Wendelken, Senior Vice President of Renesa Electronic IoT and Infrastructure Business Headquarters, stated: The advantages of Renesa Electronics MCU are based on a wide range of products and manufacturing processes. We are pleased to announce the development of the first 22nm product in the RAMCU product family, which will pave the way for the next generation MCU and help customers verify their designs while ensuring long-term usability. Our products will continue to be committed to providing the market with ideal performance, ease of use, and the latest features. This progress is only the beginning"