According to media reports, STM has signed a long-term supply agreement with ZF to provide silicon carbide devices to ZF. Silicon carbide devices are high-performance and highly reliable power electronic devices commonly used in switch and control circuits in automotive power systems. STM's silicon carbide devices will provide higher performance, lower power consumption, and greater reliability, providing better solutions for ZF's automotive power system.
Starting from 2025, ZF will purchase silicon carbide devices from STM. According to the terms of this long-term procurement contract, STM will supply over 10 million silicon carbide devices to ZF. ZF plans to integrate these devices into a new modular inverter architecture for mass production in 2025, utilizing STM's vertically integrated silicon carbide production lines in Europe and Asia to ensure the completion of electric drive customer orders.
Stephan von Schuckmann, a member of the management committee responsible for electric drive and material management at ZF, stated: We will strengthen our company's supply chain through this strategically important initiative to ensure safe supply for our customers. By 2030, our electric drive orders have exceeded 30 billion euros. To complete this order volume, we need the support of multiple reliable silicon carbide suppliers. ST's experience in complex system research and development meets our requirements, and most importantly, ST's product quality is superior, and the production capacity can also meet our needs 。" ZF announced its existing silicon carbide technology cooperation agreement in February of this year, and the new agreement signed with STM represents the support of ZF from a top global silicon carbide technology supplier.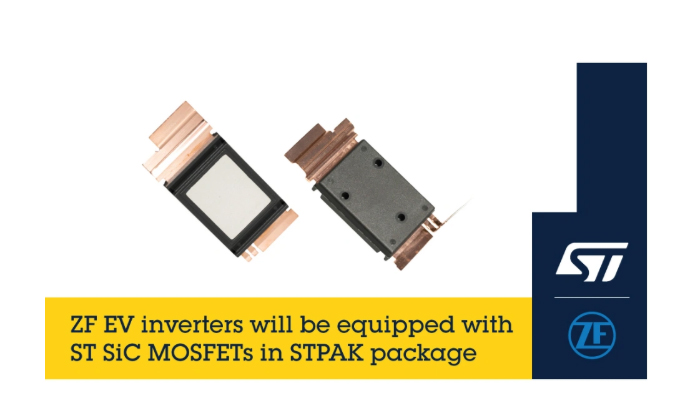 Marco Monti, President of STM Automotive and Discrete Device Products (ADG), stated: As a vertically integrated semiconductor manufacturing enterprise, we are investing heavily in expanding production capacity, developing silicon carbide supply chains, and helping our automotive and industrial customers worldwide and in Europe achieve electrification and low-carbon goals. Higher scalability and modularity, as well as higher energy efficiency, peak power, and cost reduction, are key to the success of electric vehicle technology. Our silicon carbide technology helps to achieve these advantages. We are very Proud of collaborating with advanced automotive electrification supplier ZF to help them achieve differentiation and optimize inverter performance.
STM will produce silicon carbide chips at wafer factories in Italy and Singapore, using STM's advanced STPAK packaging, and complete testing at post processing factories in Morocco and China.
ZF can connect different quantities of silicon carbide chips to meet customer performance requirements.
STM will supply over ten million third-generation silicon carbide MOSFET devices to ZF starting from 2025. ZF can connect different numbers of silicon carbide chips to meet customers' performance requirements without changing the inverter design. ZF will use this technology to develop electric drive inverters for a European automotive manufacturer and plans to start production in 2025.
The inverter is the brain of the electric vehicle electric drive system, responsible for managing the energy transmission between the battery and the motor. With the development and progress of electric drive systems, inverters have become more efficient and complex. The combination of inverter design and semiconductor technologies such as silicon carbide is the key to improving the performance of electric vehicles. Silicon carbide devices can significantly reduce power losses in electric vehicle inverters, wind turbines, and photovoltaic inverters. Compared to traditional silicon based products, silicon carbide devices have a decisive advantage in providing higher energy efficiency, power density, and reliability, while also achieving smaller and more cost-effective system designs. In short, electric vehicles equipped with silicon carbide power devices have faster charging speeds, longer range, and larger internal space.
This long-term supply agreement is an important development for STM in the automotive industry and also marks its further expansion in the power semiconductor device market. At the same time, this is also an important measure for STM to strengthen its cooperation with automotive manufacturers and provide them with better semiconductor products and services.